Weed Delivery Fresno CA | Get Edibles Delivered in Fresno
Hemp and cannabis plants have been a staple of civilization since our ancestors discovered agriculture thousands of years ago. Their usage dates as far back as ancient China and Japan, and they have been widely used throughout the world for the majority of our history.
Cannabis, also known as weed, has a number of medicinal benefits which have helped contribute to its widespread usage. It is incredibly safe, and there has never been an instance of a person overdosing from cannabis use.
Some, but not all of the conditions that cannabis is used to treat include:
PTSD

Anxiety

Nausea

Insomnia

Depression

Chron's Disease

Digestion Issues

Severe or chronic pain
As Cannabis use becomes increasingly accepted in society and by law, this ancient and prolific plant may be used to help people with any number of conditions.
What Is Weed?
Weed, also known as cannabis or marijuana, is a psychoactive drug that is native to Central Asia and India, however, it is now grown across the world. Although it is a medicinal plant that has been around for centuries, in recent years cannabis has been consistently misunderstood and has been given a poor reputation.
We aim to help change the way that people think about weed. The benefits of cannabis can't be overstated, and it's our goal to help as many people as we can discover how it can improve their day-to-day lives.
One of the best things about cannabis, or weed, is that it can be used as often or as little as you choose, and our weed-infused edibles make it extremely easy to manage the exact dose that you are getting. With the help of Pantry Food Co, you'll always be in control of your high.
Why Use Weed-Infused Edibles?
Many people are curious about the benefits of cannabis but are put off by the smell or the idea of smoking it. By ingesting a weed-infused edible, they can avoid the unpleasant smell and harmful effects of smoking while still getting all of the benefits.
In addition, the effects will typically last longer when cannabis is ingested. The reason for this is that it takes your body longer to process the weed as it passes through your digestional tract, which allows it to stay in your system for a longer period of time.
In contrast, when you smoke and inhale weed into your lungs, it is almost immediately transferred into your bloodstream. This gives you a much faster high, but it may not be as potent and you won't feel the effects for as long as your blood quickly filters it out.
This extended feeling can be particularly beneficial for people with anxiety, depression, and insomnia as they can take a lower dose and still get the same effects when ingested.
Why Weed Delivery in Fresno Is Right For You
With our weed delivery services in Fresno, you can avoid spending hours in traffic and waiting in line at your local dispensary. Instead of dealing with the stress of travel and the boredom of waiting, you can relax at home and know exactly when you'll be getting your weed-infused edibles.
Our weed delivery services in Fresno are available when you need them, and we follow the strictest standards of Covid compliance while making, packaging, and delivering your order.
We offer weed delivery for everyone 21 and older in the Fresno area. Simply order your products and they'll be shipped directly to your door. You don't need to do anything but relax and enjoy your weed-infused edibles.
Our Most Popular Weed-Infused Edible Products
We offer several weed-infused edibles for a wide variety of palates. Whether you have a sweet tooth, are looking for a pick-me-up boost in the morning, or are looking for something delicious to add to your regular meals, our weed-infused edibles have you covered.
Good Day Bites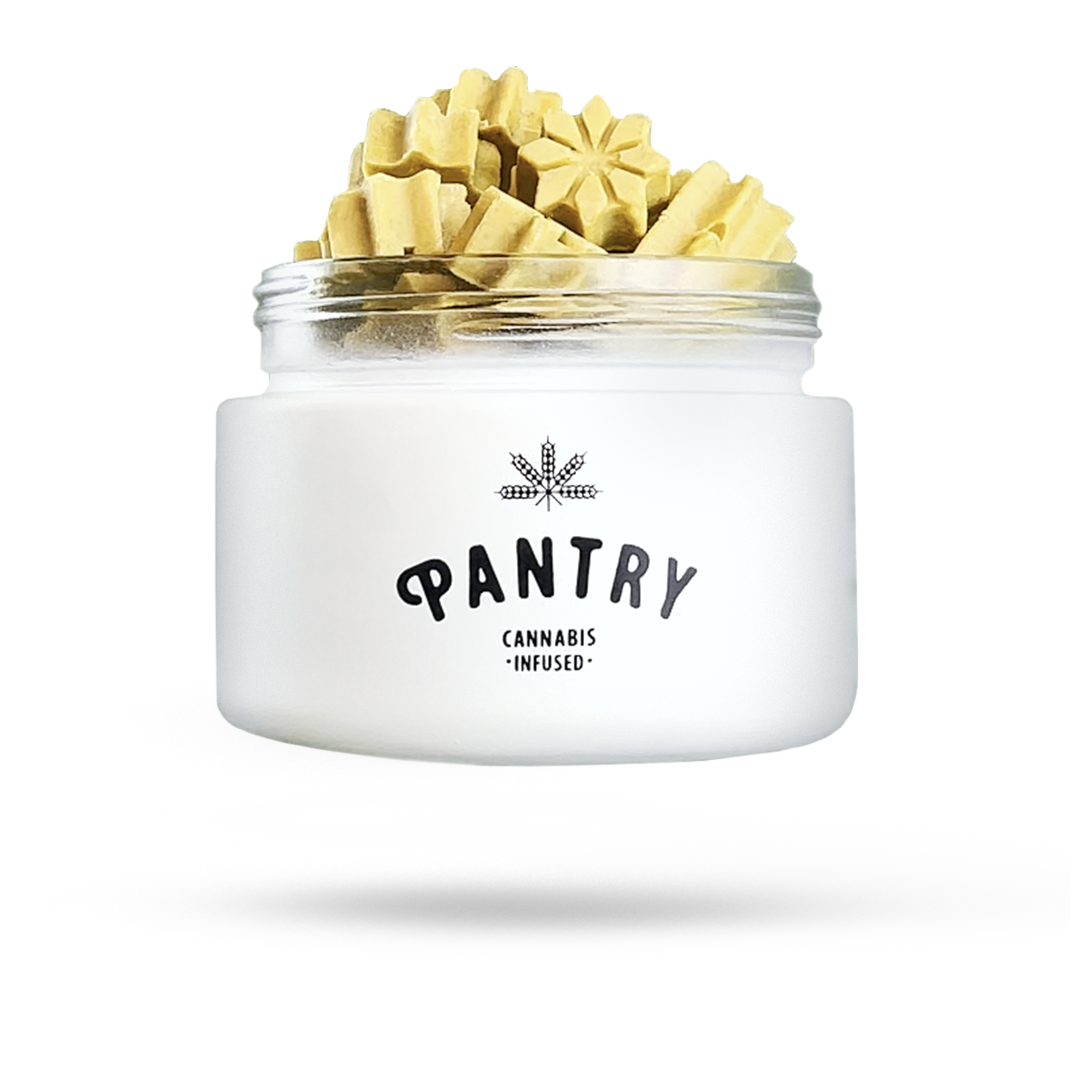 This adaptogenic blend includes functional ingredients shown to help boost mood, raise energy and ease stress and anxiety in some people and includes a powerful mixture of:
Lion's mane mushroom

Tumeric

Ginger

Ashwagandha
Glow Bites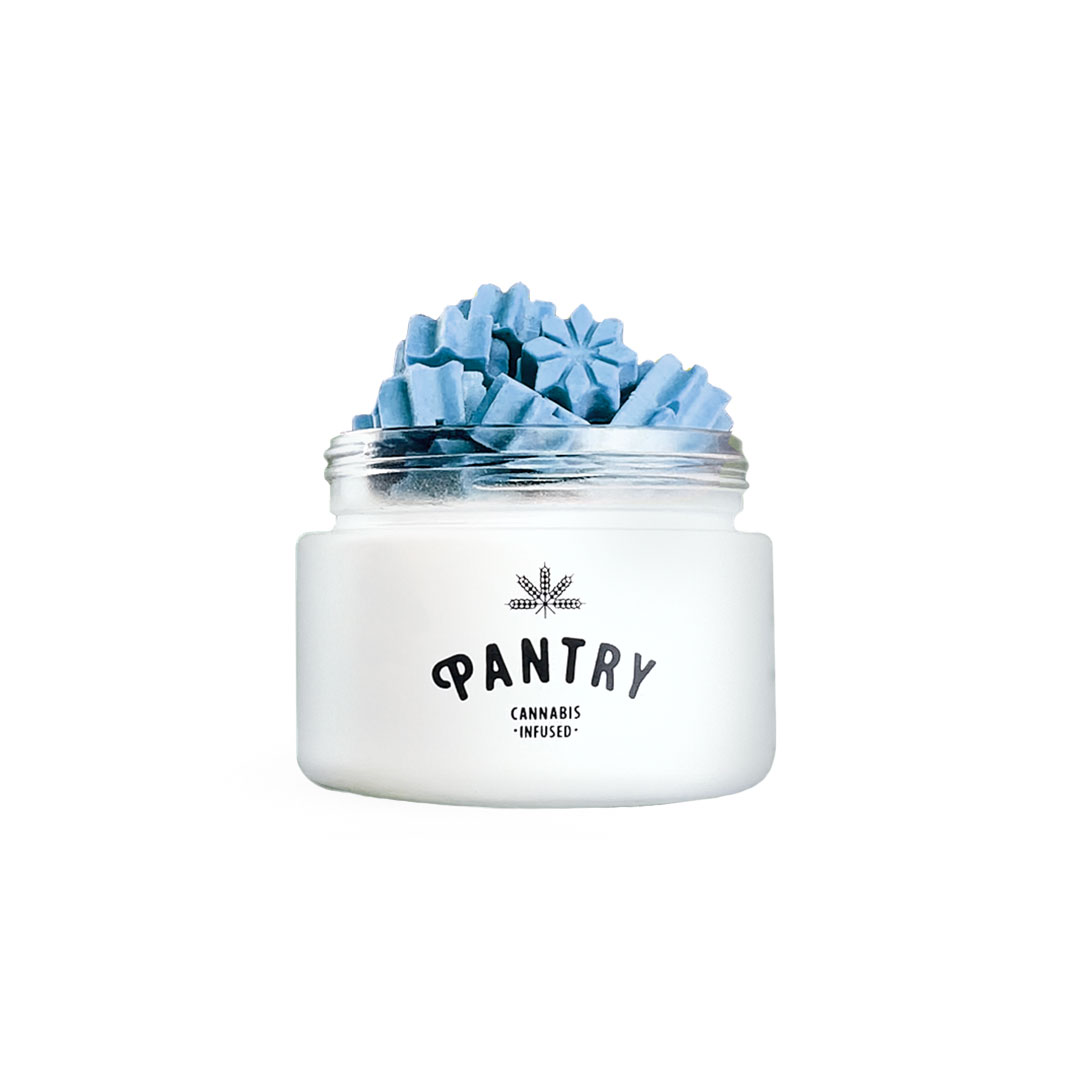 True beauty starts from the inside out. Enhance your natural glow with this peppermint-flavored white chocolate that is infused with butterfly pea flowers. This incredible flower provides anti-aging, antioxidant, and adaptogenic properties.
Chef Michael Magliano's Signature Olive Oil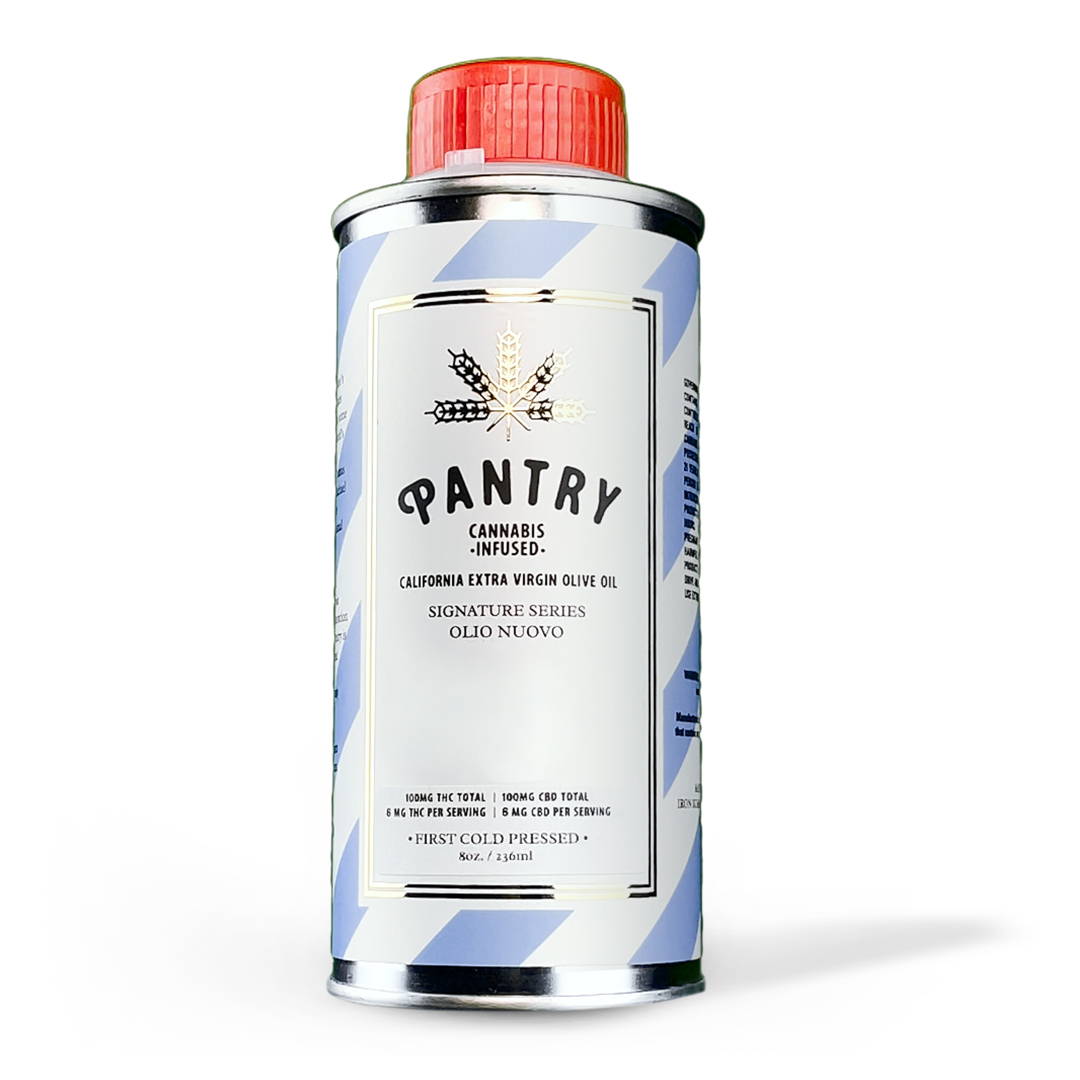 Pantry's locally-sourced extra virgin olive oil is organically grown and harvested here under the California sun. Maintaining the highest standards, our olive oil is a perfect base for salad dressings, for adding the finishing touches to pasta, a glazed finish over roasting vegetables, and infusing your favorite sauces.
Our Favorite Pantry Food Recipes
One of the best things about our incredible products is that you can use them in cooking or baking for a different flavor. Some of our favorite recipes to try are:
Paleo Chocolate Cake Bars: This dessert is a sweet treat that you can enjoy anytime! This recipe uses our Pantry Keto Bites to make delicious and portable cake bars that have just the right amount of THC and CBD, about 5-6mg per serving.
Pumpkin Cookie Dough Truffles: Another favorite of ours that is also made with our Pantry Keto Bites is absolutely perfect as a fall treat. The best part is that there's no baking involved, so these are ready to make and eat in as little as 45 minutes.
Mushroom Shawarma with Superfood Tahini: For those with less of a sweet tooth, this hearty and delicious vegan meal is an excellent choice. Made with our Pantry EVOO, this recipe will fill you up while still being good for you.
What's the Difference Between THC and CBD?
Although there are more than 100 cannabinoids present in weed, there are two that are responsible for the majority of the effects that you feel.
THC
THC is the psychoactive agent in cannabis that is responsible for providing the "high" feelings of joy and euphoria that most people experience when they smoke or ingest weed. We offer products both with and without THC so that you can choose the kind of experience that you want to have.
CBD
Unlike THC, CBD does not cause feelings of joy or euphoria. Instead, it provides the majority of the health benefits that are present in hemp and cannabis. This is the primary ingredient in helping reduce the feelings of anxiety, insomnia, chronic pain, and so much more.
How Many Weed-Infused Edibles Should I Order?
It can be difficult to pinpoint the exact amount that is perfect for each person. Your height, weight, gender, past experiences, and previous exposure to cannabis will all have an effect on your tolerance level.
For that reason, we recommend using our dosage calculator to ensure that you get as close as possible to your target dose.
Enjoy Your Experience with Our Weed-Infused Edibles?
Whether you're an experienced cannabis connoisseur or you're new to the world of infused edibles, there are some general things to keep in mind.
Start with Less, Then Increase as Needed
Everyone's tolerance is different, and there's no sure way to know how long an edible can take to be effective. On average, you should expect to wait around two hours to feel the full effects of the weed-infused edibles that you have eaten. It's best to start with less than you think you'll need, and then increase the amount after the two-hour mark if needed.
Find a Safe, Comfortable Environment to Relax In
In order to have the best experience, you should ideally be able to just relax in a calm, quiet area with people that you trust. Because some of our products contain THC, they can cause you to feel "high", so it's best if you feel safe and secure to enjoy it.
What Our Customers Say About Our Infused Edibles
"Pantry is a daily necessity for me. I start every day with a good day bite and finish with a Nite Bite. I can get through my day with minimal anxiety and a clear head and have a great night's sleep." -Kenzie, Los Angeles
"Pantry's infused foods aren't your everyday edible, they're healthier products with a higher purpose..." - Scott Hadinger
Pantry is available for delivery in these California cities and neighboring areas:
Los Angeles

San Francisco

Oakland

Palm Springs

Sacramento

Santa Barbara

Redding

Monterey

Fresno | Coalinga

San Diego

Ojai | Ventura County