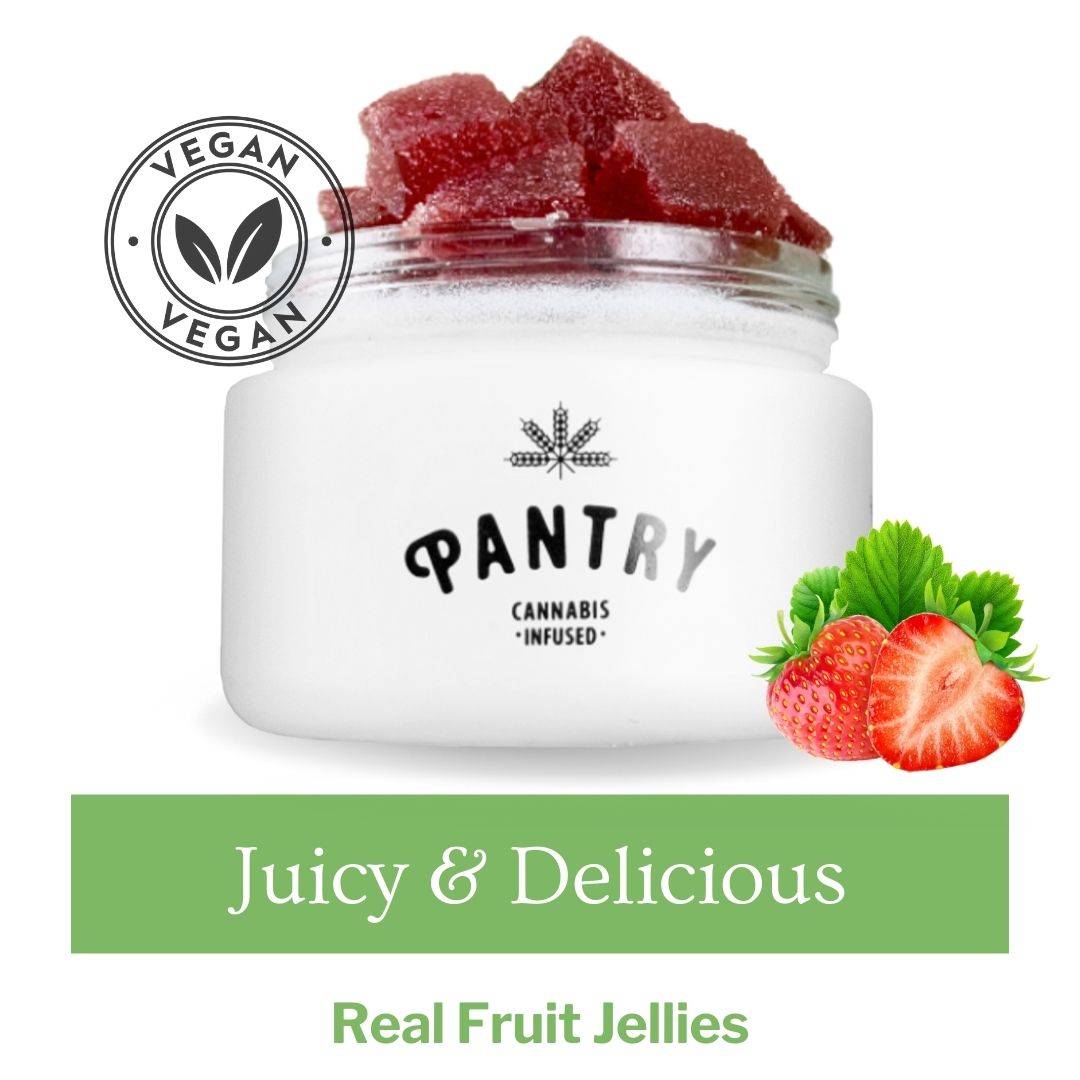 For mood lifting, creativity, bliss.
Tart and tangy fruit jellies made with real strawberries and a squeeze of lime.
A little sweet and a little sour, these jellies will have you dreaming of warm summer breezes out on the porch with your strawberry limeade in hand. Full of fresh strawberry and just a squeeze of lime per piece, these soft, melt in your mouth treats bring sunshine into even the cloudiest of days.
With a delightful 5mg of THC per piece, these jellies provide a euphoric lift with a side of relief that will keep you in a flow state for the rest of the day (or night).
Package Contents: 100mg THC

Quantity: 20 pieces
Ethically sourced ingredients.
Our mission is to help you be a better you. Choose our fruit jellies as the healthier choice for getting lifted (or perfectly relaxed).
NO WAX

NO GELATIN

NO GLUTEN

NO DAIRY


NO ARTIFICIAL SWEETENER

NO ADDED FLAVORINGS

NO EMULSIFIERS


What are Pantry Fruit Jellies?
Pantry's french-inspired pâte de fruit jellies recipes are always crafted with real fruit and without the use of colorings, artificial flavorings or 'natural flavorings'. Fruit fibers in the form of pectin and agar agar (flavor-less seaweed fibers) are used to set the jelly into a cube without the use of gelatin-- or any other animal-products, keeping all of our fruit jellies plant-based and 100% vegan.


How to dose Pantry edibles safely.
New to microdosing cannabis? We recommend first-time users start with half of a jelly (2.5 mg THC) to see how this substance affects them before consuming a larger quantity. May impair coordination and perception in higher quantities.

Try our free edibles dosing calculator to find your perfect dosage.
Ingredients
SUGAR, STRAWBERRY PUREE, WATER, INVERT SUGAR SYRUP, LIME PUREE, PECTIN, CITRIC ACID, POTASSIUM SORBATE, AGAR AGAR GUM, CANNABIS OIL