Weed Delivery San Diego Online - Cannabis & Edibles
Now more than ever, people are using different methods to stay stress/anxiety-free, relaxed, free of ailments, and happy. More traditional methods aiding people are breathing exercises or daily meditation. Additionally, there are other treatments like therapy from a licensed psychiatrist and/or medications. But these methods can be outdated, generate side effects, and might not be an effective treatment for everyone. It's because of these reasons, that the exploration of new methods has led most people to start consuming cannabis.
Research has boasted of the positive effects of Cannabis, and it's becoming a valuable treatment for people who are looking to deal with their stress, anxiety, chronic pain, depression, and/or several other conditions. As more and more states approve the sale of recreational and medicinal use of cannabis, in a variety of forms (weed edibles, oils)more and more people are positively affected by the consumption of Cannabis.
"Weed" is commonly referred to as marijuana or cannabis.  A weed edible is also known as a cannabis-infused food or simply an edible. Cannabis (the main component of an edible) contains 2 main components, THC and CBD.  
THC - also known as "Tetrahydrocannabinol", a component of cannabis, THC is the substance that's primarily responsible for the effects of marijuana on a person's mental state (feeling "high").
CBD - also known as Cannabidiol, CBD, is a chemical found in marijuana. CBD doesn't contain tetrahydrocannabinol (THC), the psychoactive ingredient found in marijuana that produces a high.
Cannabis oils can be infused in a variety of products, food, and drinks, affecting people who consume, differently.
Delivery as the best option in San Diego
Getting your cannabis products and weed edibles delivered is the most convenient way to buy and consume your weed edible products. Delivery eliminates expensive travel and provides a safe environment (even during COVID) for people to purchase products that work.
Most desired Pantry products
"Channel your inner-vacationer with a tropical-kiss of real passionfruit. Finished with a splash of sweet guava nectar, these soft, melt in your mouth jellies brighten moods and provide all of the great flavor you would find in these fresh-picked fruits."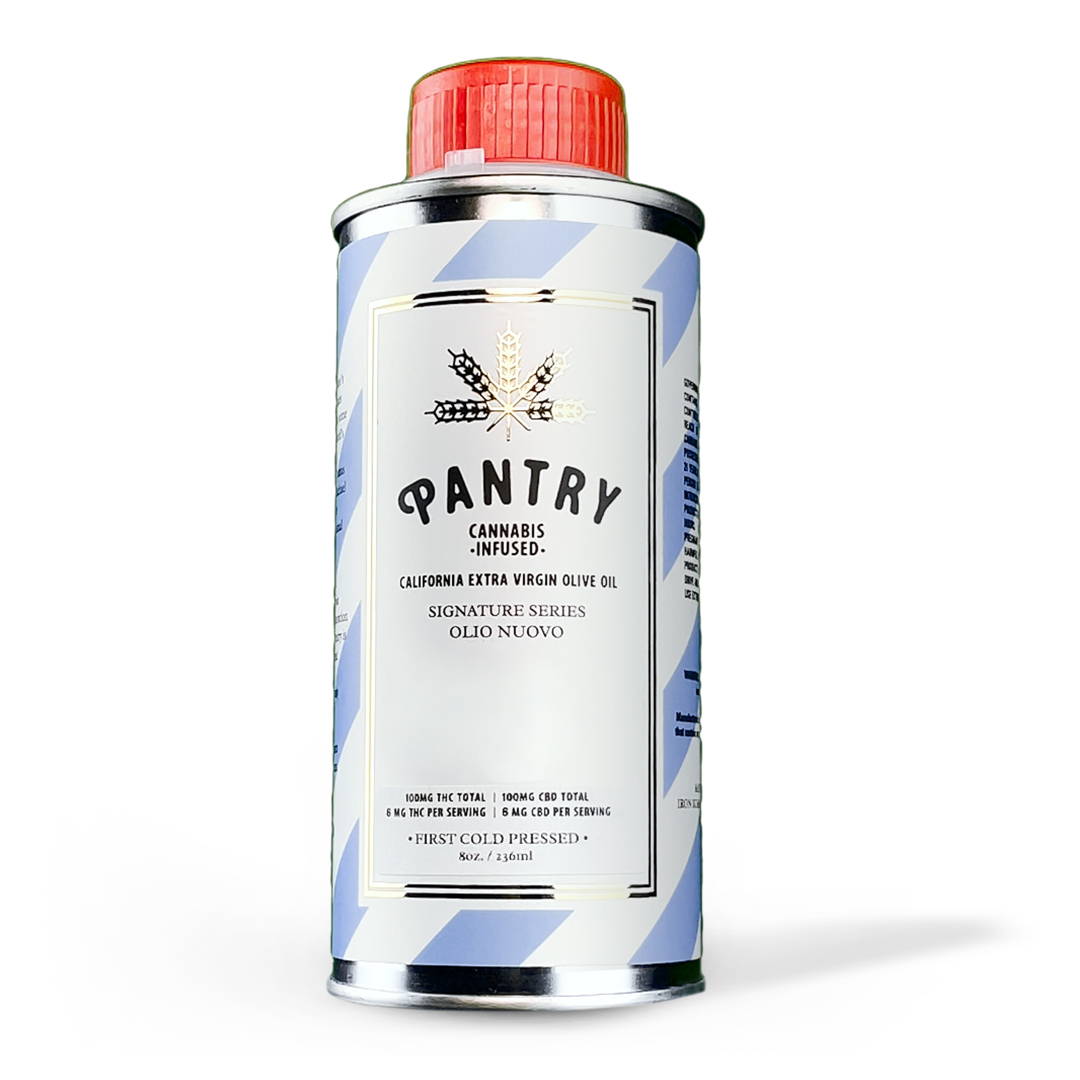 "Pantry's locally-sourced extra virgin olive oil is organically grown and harvested here under the California sun. Maintaining the highest standards, our olive oil is a perfect base for salad dressings, for adding the finishing touches to pasta, a glazed finish over roasting vegetables, and infusing your favorite sauces."
Each person's edible experience will be different. It's the combination of several factors like, age, frequency, and weight that can contribute to various reactions in people differently. We suggest using our dosage calculator and the below guidelines to further elevate your edible experience.
Find a comfortable environment
Find a space that is relaxing and will support your edible experience. Listening to music, reading a book, and/or watching a movie at home can create the ideal environment for cannabis consumption.
Each body will metabolize and absorb the weed edibles in different amounts and time frames. It's important to stay patient slowly ingesting your edibles on a full stomach.
"These delicious little 'Cacao Keto Bites', which I've been calling Cocoa Nibs (almost entirely certainly incorrectly) because they taste like semi-sweet chocolate flowers, are DELICIOUS." -JON CAPETTA | High Times Magazines
"This is a tasty piece of chocolate. Great post workout edible choice. Feeling blissed out on the couch." - LUCA BELLOIU | Writer. Marathon Runner. Jiu Jitsu Brown Belt.
Pantry is available for delivery in these California cities and neighboring areas
San Diego
Los Angeles
Palm Springs / Riverside